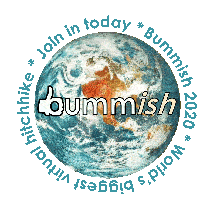 Welcome!
If this is your first Bummit it's great to have you on board, and if you're a returning Bummiteer (like Musketeer but you know, WAY cooler) then welcome back!
This one is going to be a little bit different… Your challenge, should you choose to accept it, is as follows;
As a team:
Meet as many different people as possible,
Cross off the highest amount of countries on the Bummish scratch map,
Complete the Bummish challenges with your "lifts" (more on them later).
As an event:
Cross off as many countries around the globe as possible,
Raise as much money for the wonderful Underpass charities as we can.
You can spend as much or as little time during the day as you want!
Do a couple hours in the morning, a couple in the afternoon, or all day, whatever works for you and your team!
Just be wary of time zones…
Before the event 
Please please please make sure you've donated your £5 to the Underpass Virgin Money Giving page, and if you know anyone feeling generous send the link their way too! All the money is going directly to amazing charities that will greatly benefit from our help in what is inevitably a difficult time. They are Sheffield Foodhall, NHS Covid 19 Urgent Appeal and Sheffield SU RAG. Thank you!
Start looking for rides! You'll be far better off on the day if you've already got some people lined up, so start asking around. Reddit, Facebook groups, tweet, online communities, old family friends, your old French exchange that you haven't spoken to in 10 years, the entire world (literally) is your oyster. Get creative, and wrack your brain! See this for more details…
Get your team ready, teams of 3 to 6 people seem to work best but if you're above or below this don't worry, you just might find it slightly trickier!
If you DON'T have a team sorted that's completely fine, just message the Bummit facebook page and we'll hook you up with some other participants looking for a team.
During the event
Create either a Zoom or Google Meet video call (be wary of how long a Zoom call might let you stay connected for though) with your team,
DO NOT just post the link to your meeting publicly online somewhere,
DO keep making posts and messages explaining the event, and link to the Facebook event and/or the Bummit website so people can see it's legit,
If someone is interested, or if you lined someone up prior, when they're ready send them the link to your video call and start chatting*!
Login to the scratch map tracker with the code provided to you, click on add a country and let us know what's going on with your comment!
Try see if your "lift" has any contacts in other countries that would like to keep the ball rolling!
Complete as many of the Bummish Challenges with your "lifts" as you can (if you want, take screenshots, but please ask everyone in the call first);

Get a cooking lesson or have a look at a local food/delicacy**,
Learn a phrase in their language,
See the view out the windows of their home,
Get a tour of the local streets/town centre***,
Get them to play you an instrument and/or local song,
See if they have a country flag to get a screenshot,
Get as many faces behind one camera as possible,
Meet a celebrity!
Get a tour of their house,
Get a screenshot with a pet.

IF YOU'RE STRUGGLING TO GET ANY "LIFTS" do not worry at all! It's by no means easy to convince people.
Over the last few weeks we've assembled a database of people who've said they're really keen to give participants "lifts"!
Hit us up on the Bummit facebook page and we can hook you up with a few contacts to start you off.
If someone in the call is exhibiting abusive behaviour**** we're really sorry!
There are a number of steps you can take to deal with this, including disabling their video/audio, removing them from the call, or starting a new call.
Please see the risk assessment for more information!
After the event
Get ready for the biggest night of the year!
Around 8pm our very own Will Ridgeon will be doing a warm-up set and a quick roundup of the day, and at 8.30pm La Rumba will be starting our revered after party!
Keep your eyes on the facebook event page for more details.
If you get stuck
The Bummit facebook page will be active all day, so just send us a message!
THANK YOU SO MUCH!!!!
We were absolutely gutted when Krakow had to be cancelled, and wouldn't rest until an alternative could be found. We really really hope you enjoy this day and it creates some special memories of lockdown. 
The money you've managed to raise is helping awesome charities continue with their vital work in these uncertain times, and hopefully you've met some interesting people along the way!
Can't wait to see you all at the after party, La Rumba is going to be popping!
Lots of Bummit love,
The Bummit committee xxx
*For safety reasons, no under 18s may take part in this challenge. Do not let anyone under 18 join, and if you find out someone in the call is under 18 either remove them or start a new call.
**If you're cooking, please make sure you follow these guidelines!
***Please ONLY ask your "lift" if you've researched the local lockdown restrictions in their country/area and the guidance is it's okay to go outside for non-essential trips.
****Abusive behaviour is defined as; Self-promotion, Impersonation, Disclosure of another person's personal info, Threats, Sharing of illegal content, Discriminatory and offensive language (particularly against other people)